Solaire® spray tan solution continues to collect accolades that are second to none! It is also the most awarded spray tan, winning the bridal awards (or being a finalist 7 years running) and now taking out the Best Spray Tan Brand in Australia for 2019 by LuxLife.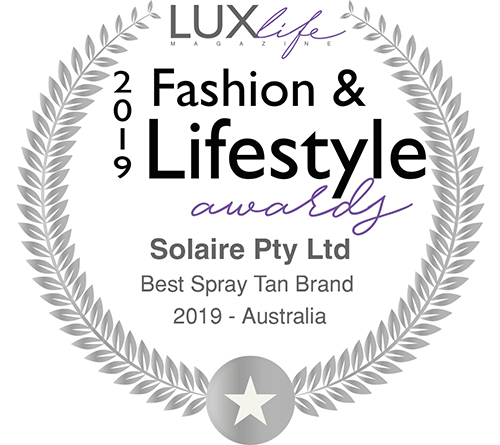 Luxlife awarded the accolade citing the impressive list of Tanning Industry Innovations, being the only spray tan manufacturer with TRUE bases and the flawless and faultless results as KEY features in taking out the award as Best Spray Tan Brand in Australia for 2019.
Only spray tan brand 21 years plus in the industry - 50 million+ spray tans
Our spray tan solutions are 100% natural
First to manufacturer GBS (2001) - Green Base Solution, VBS (2008) - Violet Base Solution, RBS (2016) - Red Base Solution.
First to manufacturer Dry Oil Spray Tan (2017)
Colourfuze Complex® - New scientific blend of natural ingredients and complex protein and peptide structures (Structural Peptide Architecture™ (SPA))
Spanning the highest net worth individuals from around the world, LUXlife patrons are a distinct breed. They know what they like and are willing to pay for it. Luxlife showcases the products, services, attractions and events that will appeal to them. Some of the world's most internationally renowned brands, individuals and products are highlighted so that our esteemed patrons will find everything they need to truly live the life they deserve.
Luxlife awards programmes cover all aspects of high end lifestyle, including the finest, food and drink, hotels and resorts, health and beauty, automotive, jewellery, art and technology. Within our pages you'll find everything from product news and reviews, to in-depth news, trends, features and comment, all designed to inform, entertain and inspire in equal measure.
Ultimately, at LUXlife only showcase the best of the best, so you can rest assured that you are at the very cutting edge of the latest luxury trends and high-end developments.